Bio - Heidi Jo Scheller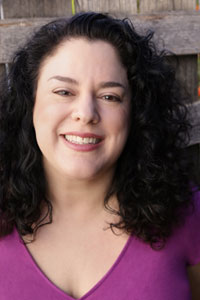 Heidi Jo Scheller
Originally from Philadelphia, Heidi has made her home in Los Angeles since 2001, and has enjoyed working as an actress, teacher, director and expert vocal coach across the US for over two decades. She was certified as a Designated Linklater Voice Teacher by Master Teacher Kristin Linklater in 1998. Heidi has taught people from over 35 countries around the world who have successful careers in film, television, theater, law, teaching, public relations and business. She is dedicated to helping, teaching and guiding people to find and express their authentic voices.
Heidi is currently a Professor of Voice on the faculty at the renowned California Institute of the Arts. She was the Head of Voice and Speech at the Stella Adler Academy of Acting from 2002-2015, and has also taught voice, speech and acting at New York University, New Actors Workshop, The Gene Frankel Theatre, Circle In The Square, Shakespeare & Co., The Hamptons Shakespeare Festival, KidsOnstage and LAvoiceJoy Studio. Heidi was a founding member and educational associate of The Hamptons Shakespeare Festival where she performed in main stage productions as well as created and taught their summer education program, Camp Shakespeare, which has been running for the past 18 years. She was also a member of the world renowned Shakespeare & Company where she has trained, acted and taught voice and text. To help reach and inspire people to find their authentic voices, Heidi created and hosts a podcast called Finding Your Voice with Heidi Scheller. She has produced two popular vocal warm-up recordings which serve as a teaching tool for students around the world.
Acting credits include, Nat'l tours: Through The Eyes of A Friend, The New American(Living Voices Theatre), Lady Macbeth in Macbeth, Nerissa in The Merchant of Venice(Shakespeare&Co), The Necklace, The Legend of Sleepy Hollow(Chamber Rep), Helena in MSND(HSF) and recent productions: Drama Desk Nominated The Navigator(Best of Hollywood Fringe 2014), Spoon River Anthology(Dog House Theatre), Inez in Sartre's No Exit(The Elephant/Netherworld Theatre Co), Marion Bridge(Son of Semele/SJB Prod.). Heidi played a featured role in the award winning short film, Union. Directing credits include: Kimberly Akimbo(Garland nomination-Best Director), Overtones(Vox Humana), A Christmas Carol, Beautiful Bodies(Stella Adler Theatre). Producer credits include: No Exit, Win/Lose/Draw, The Herbal Bed. Heidi is a featured singer on the release of King Famous' latest album. It's Good To Be King. She was a member of the reputable Vox Humana Theatre Company, Waging Theater and the Classical Theatre Lab.
She is a graduate of University of Pennsylvania and Circle In The Square Theater Conservatory, and is a member of the Voice and Speech Teachers Association(VASTA).
If you would like to book Heidi to speak, teach or direct for your next project or event, please contact her.